To mark the start of January and the start of a new year, one of our psychics has chosen a different tarot card for each star sign to represent how the month could unfold. We believe Tarotscopes are a simple way to create a life of peace, meaning and prosperity, plus it's an opportunity for people to learn more about the definitions of tarot decks. Below are all of the cards that are chosen for the month of January 2017.

*All cards pictured in this blog post are from the famous Rider-Waite Tarot Card deck.*


ARIES (March 21st – APRIL 19)
Seven of Wands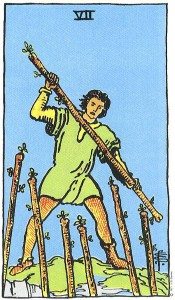 Keywords: Obstacles, Perseverance, Rivalry
Whether it's a bit of friendly competition or someone is seriously out to take what you have, you'll find yourself in a little bit of a rivalry this month. You may find that it starts in a work capacity but soon spills into your personal life. Whilst it may be tempting to get carried away with the competition, take a step back and ask yourself "is it really worth it?" You've got nothing to prove and you may end up doing more damage than good.
That's not to say that when you come up against obstacles you should give up. You're a fighter Aries and your perseverance means you can overcome anything life throws at you.
TAURUS (APRIL 20TH- MAY 20TH)
Keywords: Vibrancy, Eagerness, Kindness
The New Year will bring you a sense of vibrancy and enthusiasm for what lies ahead. January can be a bit of a depressing and cold time but you're not going to let that get you down. Your warmth and kindness radiates from you and affects those around you.
However, you must remember this month that it is okay to sometimes feel a little down. It's a natural part of life and when you feel that things are beginning to pile on top of you, your closest loved ones can be relied on to perk you back up.
GEMINI (MAY 21ST- JUNE 20TH)
Keywords: Financial Opportunity, Affirmation, Success
Don't worry about a thing, Gemini because this month, everything is working in your favour. Specifically, a new financial opportunity or investment will come to fruition this month which will be a testament to all the hard work you've done and the sacrifices you've made. It may bring a little bit of added stress but don't worry too much. Enjoy your success!
Having patience will be tough for you this month Gemini but remember, all good things come to those who wait…
CANCER (JUNE 21ST- JULY 22ND)
Keywords: Reflection, Introspection, Apathy
Has the New Year got you pondering life Cancer? January is the month of reflecting on the good and bad and looking within to see what can be done to change things. You may find yourself withdrawing from those around you this month Cancer and whilst it's great to get some deeper meaning from within, you shouldn't ignore those around you that are offering an olive branch.
Be careful of being too apathetic to those who have problems around you, introspection can be a wonderful thing but not at the expense of friends and family who may need you.
LEO (JULY 23RD- AUGUST 22ND)
Keywords: Spirit of giving, Generosity, Wealth
This month, there are people that may come to you for help Leo. Whether it's financial aid, a shoulder to cry on or a bit of advice that is needed, you've never been in a stronger position to help. You may think that you're out of your depth but you're more secure and knowledgeable than you think. And your help could seriously change someone's life.
Helping a stranger could bring you untold joy this month Leo so look out for the perfect opportunity.
VIRGO (AUGUST 23RD- SEPTEMBER 22ND)
Keywords: Triumph, Authority, Mental Clarity
Your New Year's resolutions are plentiful and you are determined to tick them all off. But remember, you don't have to have them complete within the first month! You may be experiencing a degree of mental clarity that you haven't had before but don't put too much pressure on yourself to accomplish everything at once. To be truly triumphant, you have to play the long game.
Take advice from someone in a position of authority this month Virgo – they know what they're talking about and you would be wise to heed their advice.
LIBRA (SEPTEMBER 23RD- OCTOBER 22ND)
Keywords: Appreciation, Indulgence, Conclusion
You may be satisfied with your lot Libra, but that's no reason to become lackadaisical in life. Sitting back and being passive is no way to live and you can miss out on some great opportunities that way. This month you might feel like you want to take things easy but remember to grab the bull by the horns next month.
Appreciating what you have is what you do best and others will notice your positive attitude.
SCORPIO (OCTOBER 23RD- NOVEMBER 21ST)
Keywords: Fixation, Desire, Materialism
Blaming external forces for the troubles in your life only works for so long. At some point, you have to look at yourself and address the problems there. Are you focusing on the important things in life or fixating on frivolous things that don't ultimately matter? A new year means a fresh start where you can get your priorities right.
Material wealth isn't the be all and end all – remember, health, happiness and fulfilling relationships are much more important.
SAGITTARIUS (NOVEMBER 22ND- DECEMBER 21ST)
Three of Cups
Keywords: Friendship, Festivity, Community
You can gain a lot from your circle of friends this month Sagittarius and they can gain a lot from you. It's a great thing to be able to rely on a community and the comradery can see you through even the worst times.
You'll find yourself in lots of festivities this month – it's like Christmas and New Year never ended! But make sure you realise that real life isn't all fun and games – there is serious stuff too! Don't lose sight of that.
CAPRICORN (DECEMBER 22ND- JANUARY 19TH)
Keywords: Development, Self-Assurance, Victory
This month, not only will you succeed in meeting, and sometimes exceeding, your goals, but you'll be recognised for it too. It will leave you with a great deal of self-assurance that will serve you well throughout January. Careful not to get too cocky though, people love to bring down those who think they're above others.
Your success will also enable you to accomplish a certain degree of personal development. You will find out things that you never knew about yourself!
AQUARIUS (JANUARY 20TH- FEBRUARY 18TH)
Keywords: Imagination, Fantasy, Myth
You'll have your head in the clouds this month Aquarius but remember to keep your feet on the ground. You may be daydreaming about possibilities or dreaming up ideal scenarios for yourself but you'll never be able to make them a reality if you're too busy with your head in the clouds. Try not to get disappointed if you dream up something and the reality doesn't quite match expectation – real life rarely does. But that doesn't mean what you have isn't worth something.
Fantasies are fun but practical decisions need to be made.
PISCES (FEBRUARY 19TH- MARCH 20TH)
Knight of Swords
Keywords: Hurried, Opinionated, Conversational
Acting before thinking it through can land you in trouble this month Pisces. Your eagerness for action is a sign of your passion but it can trip you up sometimes. You need to slow down at times and think a situation through. Your strong opinions often lead you through life but it never hurts to hear an opposing argument.
Use January as a test month to be less hurried and start dialogues with people to get the full story. What you find might surprise you.